Event Registration
Calling all driving enthusiasts, you won't want to miss this one! HCBC/EC Officials Driving Clinic with clinician François Bergeron. Join us for a weekend of driving education with two days of classroom learning and one day of practical live judging.
Clinic is open to all Carriage Driving enthusiasts
For HCBC/EC Officials: Early bird special until April 1 $225.00, after that cost will be $250.00
Includes two days of classroom, one day of live practical judging, breakfast and lunch Friday and Saturday, Friday evening Welcome reception and Education night
Auditors' welcome $60.00 per day or $150.00 for all three days, anyone that applies as a new HCBC Driving official at the clinic will have their application and test fees waived.
Clinician: François Bergeron
About François:
Francois lives in Ormstown, Québec where he has spent all of his life in the driving world. He has competed in Canada and USA in Pleasure and Combined Driving since 1985 and has driven in single, pair as well as tandem in competition. Francois has also been very successful competing in Pleasure Driving and has won many championships in Canada and in the USA. He has been twice named as alternate on the Canadian Team for the World Single Horse Championship and in 2019 was North American Preliminary Champion with the American Driving Society.
In 1998, Francois became a member of the American Driving Society and a Driving Coach with Equestrian Canada. In 2003 he graduated as a Combined Driving Judge with the American Driving Society and has officiated at many competitions which has brought him to 13 states in the US and five Provinces in Canada.
Included in Francois' impressive resume is recognition as a Senior Combined Driving Judge with American Driving Society, a Senior Combined Driving Judge with Equestrian Canada and a Large "R" Combined Driving Judge with USEF. In November 2021, Francois travelled to Poznan, Poland and graduated as a FEI 2*Combined Driving Judge.
Francois loves to share his knowledge with people who share his passion with the sport of Driving and is excited to come to BC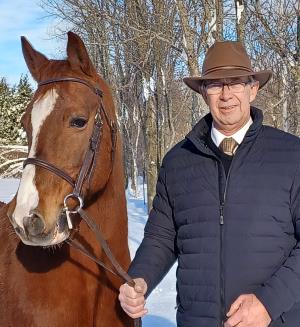 MULTI DAY TICKETS
HCBC/EC Officials Full Weekend Early Bird Rate

3 Day Registration April 28-30

AUDITOR ONLY Full Weekend Pass

AUDITOR ONLY Full Weekend April 28-30
ONE DAY TICKETS
AUDITOR ONLY Friday Single Day

AUDITOR ONLY Friday Single Day April 28th

AUDITOR ONLY Saturday Single Day

AUDITOR ONLY Saturday Single Day April 29th

AUDITOR ONLY Sunday Single Day

AUDITOR ONLY Sunday Single Day April 30th