Find a Business - Thompson Okanagan
---
A bright, new, safe equestrian boarding centre where horses and humans come together to have fun. Riders can choose from a variety of riding places; the perimeter trail; the large, bright indoor arena; the sand outdoor arena; or the many trails around the area. 10 minutes to Kamloops, easy to access from Highway 1 and the Coquihalla. We offer excellent quality hay, individual feeding routines, rotational grazing and regular riding clinics. Reasonable prices. Call Ann for more information.
Read More...
Phone: 778 220-7898
5504 Rodeo Drive
Kamloops, BC
"Where friends are made" This exciting new horse camp is located in the historical ranching community of Merritt, B.C. Located on a beautiful 50 acre property over looking the lake, valley, and fish bearing creek. We have 18 dry camping areas, each with corrals, picnic tables and fire pits. We have 4 cabins of various sizes available if you do not have your own accommodation. We also offer 2 Hot water showers that require loonies. There is potable water available on site as well as pit toilets. We are about 20 minutes north of Merritt and 15 minutes south of Logan Lake, B.C. The riding is endless here. One trail can even lead you to Left Field Cider . Yes, you can hitch your horses to the rails at Left Field and sample some of their fabulous English style apple cider. Be sure to check out our website for pictures and prices! www.hiddenvalleyhorsecamp.com [email protected]
Phone: 250 378 1848
#308 686 Lequime Road
Kelowna, BC
1465 Cariboo Place
Kamloops, BC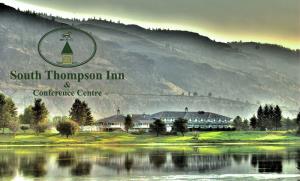 South Thompson Inn & Convention Centre
Read More...
Phone: 1-800-797-7713
3438 Shuswap Road East
Kamloops, BC
4845 Sinclair Rd.
Kamloops, BC
1719 Tait Street
Summerland, BC
108-197 Warren Ave East
Penticton, BC
6675 Westsyde Rd
Kamloops, BC
108-2960 Tranquille Rd
Kamloops, BC
7373 Barnhartvale Rd.
Kamloops, BC